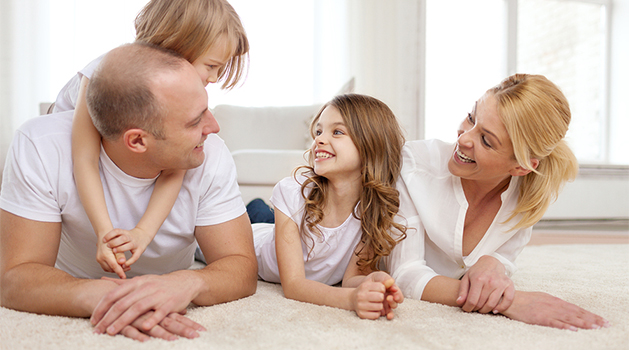 Taking time to think through the details while shopping for new floors can help prevent these common mistakes:
1. Choosing floors that don't fit your lifestyle.
Try not to choose a floor simply because it looks good. Be sure it fits your lifestyle. Some flooring choices are better suited than others. Think about whether the room is a high-traffic area, if there are or will be kids or pets in the home, or if you like to host parties frequently. Also consider how often you plan to replace your floors or redecorate.
2. Buying before trying the product out in its intended space.
Certain floors may look great in-store or online, but don't translate well once you get them home. To avoid this issue, start by using our Room Visualizer tool, which allows you to virtually try on any of our floors right in your own home. Additionally, you can ask your local Carpet One Floor & Home for samples to take home. This gives you the opportunity to see how the floor ties into your current décor, as well as how it will look in various types of lighting throughout the day.
3. Choosing floors without thinking about room factors.
Consider factors like humidity, moisture and traffic level when shopping for floors. Knowing your room's environment can help narrow down options and avoid potential problems after the floors have been installed.
4. Not asking questions.
Don't be afraid to ask questions. Asking questions can help you make informed and confident decisions. Read our guide on what questions you should ask when shopping for floors.
5. Not thinking about installation.
Installation is just as important as the floor. For example, a budget-friendly tile can look great if installed correctly and a high-quality tile can look shoddy if installed poorly. Hire a professional through Carpet One Floor & Home for the best results, and look into obtaining an installation warranty to make sure you're not wasting time and money on redoing a poorly-installed floor.
6. Not considering a warranty.
While there is no guarantee that you will use or need your warranty, it's still important to consider the pros and cons. Warranties can offer peace of mind by providing guaranteed protection against a variety of factors. Warranty coverage can vary by flooring type, region and even lifestyle, so you'll want to do some research and choose a warranty that aligns with your specific needs.
7. Not seeking professional help.
DIY can seem like the least expensive option, but seeking professional help will often save time and money. For example, when measuring for floors, a professional can provide you with a more accurate measurement, which may keep you from ordering more flooring than you need. Also, unless you're an experienced DIYer, installing floors is not as easy as it sounds. You may end up spending more time and money on buying tools or redoing a botched installation.