Sometimes, the smallest spaces in your home can be the most challenging to renovate. There are many aspects of a bathroom renovation that can turn this small-space renovation into a big project. For this reason, it's important to plan out your project and spend ample time figuring out what you want your space to look like when it is complete.
When it comes to flooring, there is a wide range of flooring options that will help you transform one of the smaller spaces in your home into one of the most stunning spaces. With so many bathroom flooring options to choose from, it may be hard to know where to start. We suggest you start with finding your inspiration. Search through our inspiration gallery, home décor blogs and magazines and start a file of all the spaces you love. Once you have your inspiration, take a look at the floors and see what they have in common.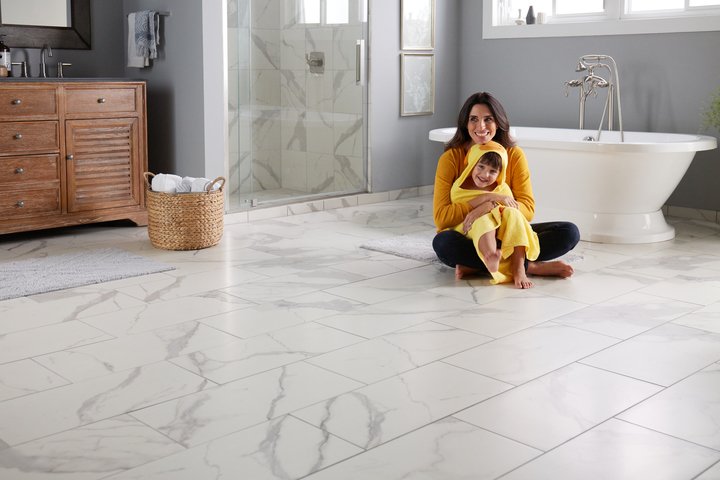 What type of look do you love?
Do the photos you love have bright, light floors? Or do you prefer a warmer look? Don't let previous shopping experiences skew your decisions. There are tile and luxury vinyl options for practically any look – even hardwood. Once a forbidden look in the bathroom, all types of hardwood looks can now be achieved with vinyl flooring and tile. This same strategy will work with other elements in your space. Just look for the similarities in the photos that you've saved and go from there. If you're lucky enough to find just one space that you really love, this makes your choices even easier.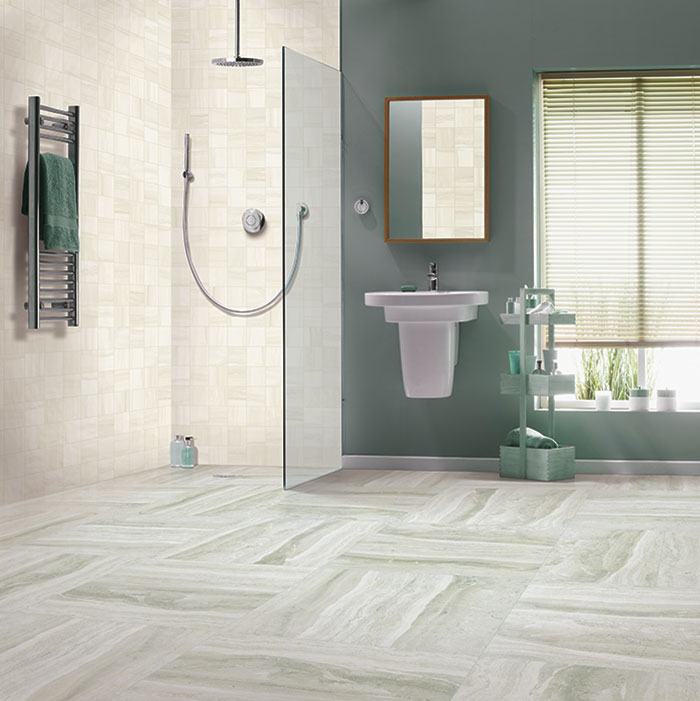 What type of floor do you need?
The two most common types of flooring for a bathroom are vinyl and tile. Both are highly resistant to water and will stand up to the splishes and splashes of your bathroom. Vinyl – whether it's luxury vinyl plank (LVP), luxury vinyl tile (LVT) or sheet vinyl, will be a little easier to install as it usually requires less subfloor prep and lays down quickly. Tile is cool to the touch and offers endless opportunities for installation. Be sure to share pictures with your flooring consultant and installer to make sure your vision is clear. By sharing your budget and flooring needs with your flooring consultant, they can help you find both the look and the flooring type that will help you create your new space.

More than floors
While flooring is our expertise, when it comes to bathrooms, we've got more in store. Tile not only makes a great water-proof floor, it also makes great walls. From the shower to the rest of the space, tile is a great option for bathroom walls.