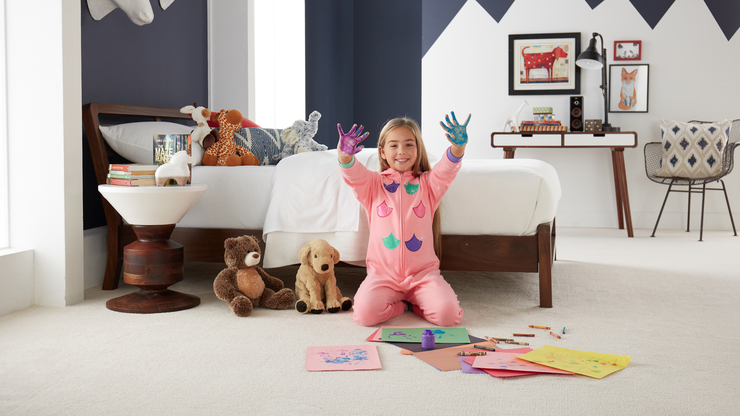 Supremely soft, plush carpeting. Elegantly rustic, natural hardwood. It's hard to choose between two of the most amazing, stylish surfaces on the market- but one must be crowned to uplift your favorite rooms! There are plenty of outstanding reasons to love both of these overwhelming popular styles:
Everyone loves carpet, to the tune of US carpet sales greater than the combined sales of all other flooring options. Families love to make memories in cozy carpeted rooms, and choosing the best carpet for your home will depend on certain factors. For instance, nylon carpet will assist your active home with outstanding, reliable performance when it comes to stain resistance and durability. Polyester carpet fiber presents an excellent combination of style, value, and even sustainability. A game-changing carpet fiber, Triexta fiber creates carpets that are incredibly stain resistant, eco-friendly, and durable. Olefin fiber boasts outstanding moisture and stain resistance, which makes it a great fit for indoor-outdoor carpet use. Homeowners can use different carpet fibers and carpet constructions to provide the comfort they crave, with the performance their home requires.
Everyone also loves durable hardwood, the popular, timeless flooring investment that will never go out of style and actually improves a home's resale value. Hardwood planks come in a gorgeous variety of stains, finishes, species, lengths, and widths that can be used to capture any feel from coastal to country, rustic to modern. Cherished for its natural beauty and visible grain, hardwood floors provide strength and timeless design to any home.Engineered hardwood flooring has offered homeowners even more options to select from, bringing the possibility of wood floors to areas that are traditionally not a great match for hardwood. As homeowners and designers alike demand wider, longer plank formats, manufacturers have found more creative inspiration to develop fresh, new hardwood style.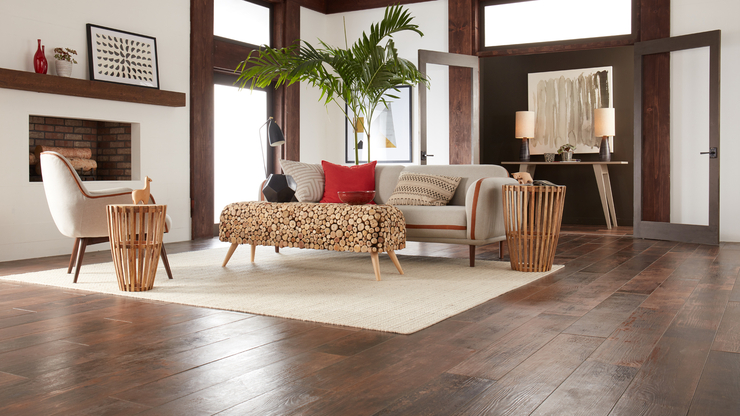 Pros & Cons of Hardwood vs. Carpet
When it comes to whether carpet or hardwood will be most appropriate for your home, the answer will depend on factors such as kids, pets, the rooms in question, budget, and installation requirements. Without further ado, let's dive into both flooring options and examine how they can best serve your household:
Cost & Long Term Value – Carpet fibers vary in price, but all will ultimately diminish in long term value over time. At a medium price point, nylon carpet will allow the average homeowner to have stylish, stain-resistant carpet without overextending financial resources. Polyester fiber will offer suitable durability, stain protection, and fade resistance, perfect for new families that need to save money when replacing carpet. Polyester carpet may need to be replaced before other fibers but will be a good option for quickly replacing carpet that's past its prime. Triexta will stay looking newer for longer but will cost a little bit more as a result. Hardwood floors offer homeowners excellent resale value, but will indeed cost more to purchase and install. The price tag of hardwood will vary depending on the type and quality of wood: Softer woods like pine will run $3 to $6 per square foot, harder domestic species like oak will run $5 to $8 per square foot, and exotic species will fetch $8 to $14 per square foot. Engineered hardwood options can be a little less per square foot, but will still represent a significant sum for most homeowners. The ultimate trade-off is that your hardwood floors will not need to be replaced within 3540 years and can raise the overall value of your property.
Appearance & Color Options – No matter what the other hot trends in the flooring industry may be, hardwood styles make a splash every year with new textures and finishes that add warmth and flair to our favorite rooms. Within this timeless category, some of the latest looks are bold and memorable. Whitewashed wood is elegant yet edgy and can be used to craft an upscale feel as well as a relaxed, coastal vibe. Modern hand-scraped and wire-brushed techniques are in demand with exposed growth rings and eye-catching characters lines. Matte finishes provide a more subdued approach to showcasing natural wood that looks newer longer and is easy to keep clean. For a little bit of shine, satin finishes are versatile, classic, and authentic with a low gloss finish that never goes out of style. When it comes to design versatility, however, carpet is virtually unmatched in the wide-range of different colors, patterns, and styles that you can choose from. Both carpet and hardwood will beautify your home to dazzling results! It's all about the feel you want to create.
Ease of Installation – Unless you have vast experience in installing flooring, both carpet and hardwood installation will require the average homeowner to hire professionals. The installation needs of wood will vary depending on the product: Solid wood planks will require greater expertise than engineered wood products that have locking systems between planks. HomeAdvisor projects the average price of installing wood floors in a 1,000 square foot home at approximately $8,000.00. The cost of installing solid hardwood floors will be based on the species, size of the planks, size of your home, and where your home is located. Generally, you should add another $4 to $8 (or more) per square foot for installation. Carpet installation will take considerably less time than hardwood but requires enough attention to detail that it is best left to professionals to ensure that proper stretching and prevent exposed seams. No matter what type of carpet you purchase, it will generally have similar installation costs. Whether you measure carpet by the square foot or square yard, HomeAdvisor lists the average total cost to install carpet in the range of $750 to $2,500.
Sound Insulation – As to be expected, combining soft carpet with a quality carpet pad will offer greater sound insulation and reduce noise from foot traffic better than hardwood floors. Cut-pile carpets feature a fuzzy top, which has tested better at absorbing sound than loop pile carpet construction. Many carpet pads are specifically engineered to reduce noise and absorb sound, so make sure to ask and shop for these products when purchasing carpet. Wood is not an inherently good sound absorption material, and if used in the installation, nails will transmit sound to the subfloor. you have an active home that will see many boots, cleats, and paws, you will hear more noise from hardwood floors than from carpeted floors.
Durability & Cleanliness - If your active family is often tracking in dirt and your kids and pets are prone to accidents, it's important to pick a carpet fiber that will be an excellent fit for your home's lifestyle. Nylon fiber will provide excellent stain resistance and resiliency, whereas polyester carpet will wear faster under similar conditions. Triexta fiber will be a great fit for active families that want to enjoy making memories without stressing over carpet maintenance. Combined with enhanced durability, Triexta achieves superior stain protection through the actual shape of the carpet fiber, not a topical coating. Hardwood floors are the classic flooring solution when it comes to durability. When maintained properly, high-quality solid wood floors can be refinished multiple times and last for decades. Hardwood floors are relatively easy to clean but will require greater diligence and attention to prevent and address any scratches or water damage. Engineered wood flooring can provide comparable durability, but often offer advanced finishes to handle an active household effectively.
Choosing Carpet or Hardwood for your Room
Carpet or Hardwood for Bedrooms
Since your bedrooms will not see the foot traffic and activity like other areas of the home, you can put your flooring focus on premium comfort and beauty. Cloudlike cut pile carpets are softer, thicker, and a dream to touch underfoot. You can go as plush as you want and even indulge in smooth, twisted Saxony carpets with rich construction. High fashion carpets such as textured cut pile, friezes, shag carpets, and cable carpets will offer undeniable comfort in your bedrooms. As mentioned before, wood will not offer the same level of sound insulation as carpet, and we typically want our bedrooms to offer a quiet sanctuary. You can use a dehumidifier to maintain an ideal 35% and 55% humidity level, which can help prevent creaking. Use your bedroom to indulge in your favorite bold, fashionable hardwood trend and save more traditional hardwood styles for the rooms that will see more eyes over time.
Carpet or Hardwood for Living Rooms
Since living rooms are generally calmer areas that will still be used for hosting, the average home will require flooring that has a strong balance of style and durability. For carpet, you will want a stain-resistant, easy to maintain option that resists footprints. Easy to clean and resilient, nylon carpet and Triexta carpet will handle crowds well and remain attractive. A loop pile construction will create a durable, stain-resistant, low profile carpet. In addition to adding visual interest, a multi-level loop construction will create a textured carpet that aids in easier cleanup of dirt, accidents, and spills. Nearly any style of hardwood you choose for a living room will be an outstanding fit. Your living rooms will rarely be a high moisture area, and any solid hardwood or engineered wood floor will provide more than enough outstanding durability. When it comes to hosting, wood floors will always create a striking impression and set the scene for cherished memories.
Replacing Carpet with Hardwood: What to Know
When you do switch to hardwood flooring, you will have the ability to refinish planks when needed, keeping them shining radiantly while also protecting the floor against damage. Home Advisor lists the average cost of refinishing a 15x15 room in the range of $340 to $900, costing anywhere from $1.50 to $4.00 per square foot. With proper love and care over the years, refinishing your hardwood floors can erase damage from scratches and fading.
If you live in a warm climate, it is important to consider how humidity can affect your wood floors when switching from carpet. As the temperature outside increases, the amount of water vapor in the air increases and inevitably comes inside our homes. Air conditioning and dehumidifiers can help evaporate the humidity of the air indoors, but if unaccounted for, swelling, expanding and contracting, warping, cupping, and cracking of your planks can occur. High degrees of seasonal change may mean that engineered hardwood would be a better fit to resist humidity and the presence of moisture.
When your hardwood floors are finally installed, you can add the pops of warmth, softness, and cushion that you had with carpet by using throw rugs, area rugs, and runners. When you are ready to receive a carpet or hardwood cost estimate, you can submit a Free Estimate Request Form to your local Carpet One Floor & Home store and begin creating your new favorite rooms!