Hardwood floors are known for their natural beauty and their ability to add value to any home. Whether you're looking to add rustic flair or modern elegance to your design, hardwood is an excellent choice for nearly any space. Hardwood is unique because there are many types of wood to choose from. Each wood species varies in its hardness, grain, and stain colors, so you'll want to learn more about every type of hardwood species when choosing these floors for your home. Some of the most popular wood species include maple, red oak, white oak, bamboo, walnut, hickory, and Brazilian cherry, as well as many other species. Read on to learn more about some of the most popular types of hardwood and to find out which one best fits your lifestyle.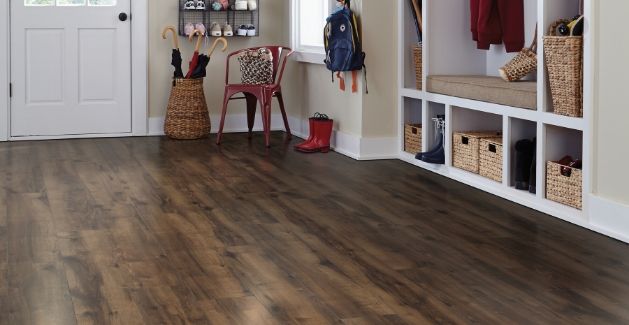 Maple Hardwood
Maple hardwood floors are widely recognized for the style they bring to modern homes. With a uniform look, the simplicity of design comes through with maple hardwood flooring. While it's true that maple hardwood is attractive, it is also true that maple hardwood floors are incredibly durable and shock-resistant. For this reason, maple hardwood is the primary flooring selection for gym and sports floors. Naturally occurring in Europe, Northern Africa, and North America, maple trees are plentiful and large, growing up to one hundred and thirty feet tall.
What are the Characteristics of Maple Hardwood?
Maple hardwood floors have a consistent, basic, grain that adds subtlety to home design. The direction of the grain is straight, running in only one direction. The straight, smooth grain of maple draws attention to clean lines, and the other elements of home décor, which is why maple is an excellent choice for a contemporary, eclectic, or modern design.
Maple Hardwood Stain Colors
Maple hardwood floors do not vary greatly in color like other hardwood options. Maple is a light-toned hardwood, with a white, cream color and light red accents in some pieces. With its honey-colored notes, maple takes stains well but is most often sealed rather than stained. Sealing maple floors instead of staining them bring about the genuine qualities of the wood, and as time passes, the wood can deepen in its golden tone.
Are Maple Hardwood Floors Durable?
Maple hardwood floors resist scuffs but can show scratches more than other hardwoods because of the light color and grain. As a particularly hard surface, maple is less prone to dents and scrapes due to accidents or foot traffic. Especially ideal for those with high traffic, kids, and pets, maple continues to be one of the best options when it comes to design adaptability and durability.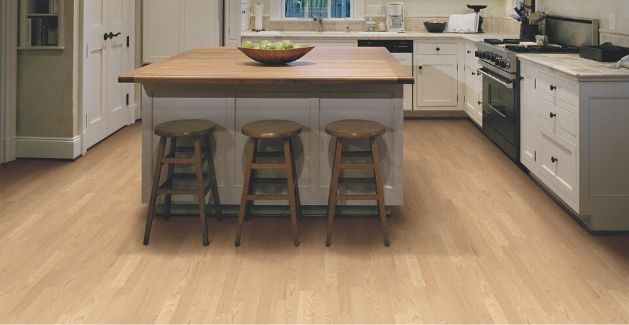 Red Oak Hardwood
Red oak hardwood floors are known and loved for their reddish hues and natural beauty. Thanks to their appealing nature, red oak wood is common for projects like kitchen cabinets, paneling, doors, and millwork, and today it is an excellent flooring option. Indigenous to North America, red oak trees grow in many parts of Mexico, Central America, the United States, and Southeast Canada. Growing as large as one hundred feet tall or more, red oak trees produces hardwood that is good-looking as well as useful.
Red Oak Hardwood Grain
The grain of red oak differs significantly from white oak. While it is a straight-grained wood, when compared to white oak, red oak has lines that are wider and even curly in some spots. Wavy lines in hardwood mean that the grain does not run vertically in line with the tree, but instead, the direction of the lines run more "wildly." Red oak is coarse-grained and uneven, meaning that it is not necessarily smooth to the touch. There are subtle differences between red and white oak graining, but they are noticeable when examining the wood carefully.
Red Oak Hardwood Stain Colors
The color variations in the red oak species of hardwood range from light white to golden-brown, with hints of pink and red throughout. Red oak hardwood floors can be stained any color, and the stain will take to floors well. Because this type of hardwood has traces of red and pink, staining it can bring about the natural characteristics and brighten the grain. Red oak hardwood floors will also change color over time, deepening in color and tone.
Is Red Oak Hardwood Flooring Durable?
As a top contender for one of the most well-known flooring choices, red oak hardwood is a sturdy floor that resists dents well. While it is not as hard as white oak, red oak does still an excellent job of handling tough days with kids, pets, and guests alike.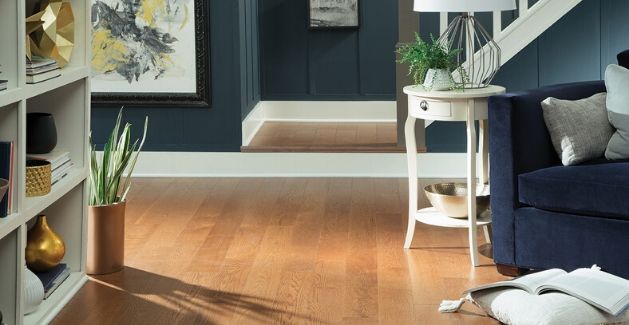 White Oak Hardwood
White oak hardwood floors are one of the most popular flooring choices on the market today. Initially used for woodwork, furniture, and boats, white oak quickly became a product that rose in interest, particularly in the flooring industry. Native to the Northern Hemisphere, white oak grows in many parts of the United States.
White Oak Hardwood Grain
White oak hardwood is medium to coarse-grained and distinct, meaning that it has lines that are naturally close to one another. These lines are also straight, running vertically with the direction in which the tree grows. Medium to coarse-grained woods are usually rougher to the touch than fine-grained hardwoods, and white oak does not stray from the norm in this instance. As a hardwood with a closed grain, white oak has small pores that make for a flat finish.
What does White Oak Flooring Look Like?
The natural color of white oak is a mix of colors ranging from brown to tans. The color variation of white oak ranges from dark brown to beige, with some woods having a combination of both. Often confused with red oak, white oak is darker in color than red oak. White oak hardwoods can be stained any color, and depending on the tone, the lines and variations of the white oak hardwood can be bold or basic. Over time, white oak hardwood floors tend to change into a more golden color which is crucial to keep in mind when you're choosing the stain and finish for the first time.
Do White Oak Floors Scratch Easily?
White oak hardwood floors are naturally resistant to dents and scratches, due to the hardness of white oak. As a dense wood, white oak is resilient and sturdy, making it ideal for traffic homes, and lifestyles that need floors that can face daily wear and tear.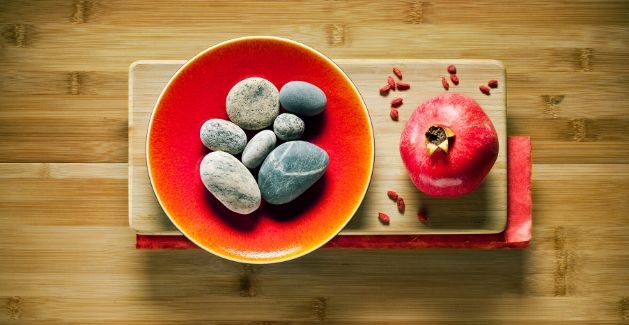 Bamboo Hardwood
A relatively new flooring type, bamboo has given homeowners yet another option to choose from. Bamboo is eco-friendly and attractive, which makes it a flooring choice that is an excellent alternative to the original hardwood surface. Unlike other hardwood types that take anywhere from twenty-five to one-hundred years to reach full maturity, it only takes five to six years to regrow bamboo. For this reason, bamboo has sparked interest in the hearts of homeowners who hope to make a greener impact on the environment.
Bamboo Flooring Grain
The grain of bamboo flooring depends on what type it is. Horizontal, vertical, and strand-woven bamboo flooring types are available, with the construction varying slightly in each. Horizontal bamboo flooring has a wide grain and shows off the natural characteristics of bamboo. Vertical bamboo flooring appears less what you would imagine bamboo to look like, with more vertical lines and texture. Strand-woven bamboo seems less like traditional bamboo floors, with more strand lines and texture like that of hardwood.
Bamboo Flooring Colors
While the natural color of bamboo tends to be a golden, yellow tone, sometimes more amber colors of bamboo are available. After manufacturers subject bamboo to high heat which is called carbonization, bamboo takes on a more amber color. Staining bamboo flooring is possible, even though it is not traditional hardwood flooring. Bamboo takes on stain very similar to hardwood, so most stains are excellent no matter what the color.
How Durable are Bamboo Floors?
Bamboo is considered a grass, rather than a hardwood, but is surprisingly much harder than some hardwood floors available today. Bamboo flooring is denser than maple and oak floors, and depending on the wear layer, bamboo can be tough to scratch. With the look and feel of wood, the advantages in its durability make a strong case for investing in bamboo flooring.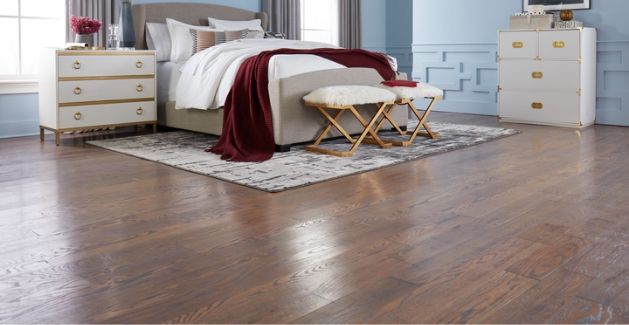 Walnut Hardwood
When it comes to tone and color, walnut hardwood is a unique flooring option available, and it is a charming addition to any home. Walnut hardwood isn't just for flooring; however – furniture, décor, woodwork, and decking are common uses for walnut hardwood, primarily because of its impressive durability. Walnut trees grow in the Eastern United States and are less abundant than other species of hardwood. Walnut trees grow higher than fifty feet tall and can have an extremely wide diameter.
Walnut Hardwood Grain
The walnut hardwood species generally has a straight grain, with some irregular graining naturally occurring. The lines of the grain in walnut can be parallel to the direction of the tree growth or random and erratic, with few knots. The straight and sometimes irregular grain makes walnut hardwood floors one-of-a-kind.
What does Walnut Flooring Look Like?
There are two main colors of walnut, depending on where the wood comes from, with both having a bit of purple tone. Sapwood, which is the outer layer closest to the bark of the tree, is white and gray. The heartwood of walnut, on the other hand, varies in color from light to rich, dark brown. Because walnut has deep browns, light stains don't show up as well as darker stains. Unlike other hardwoods, walnut lightens in color over time, which can be a crucial factor when choosing stain color.
Is Walnut Flooring Durable?
While walnut is one of the lower rated hardwoods for hardness in comparison to other flooring options, it still performs well in specific applications. With the medium texture of walnut, a matte finish is the best way to reduce the look of scratches or scuffs if they do occur. Plus, thanks to its natural darkness, walnut floors can also hide dents.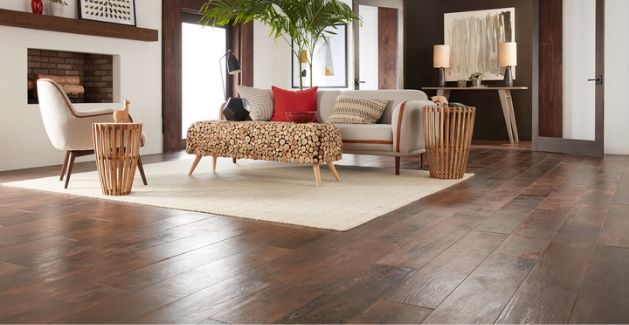 Hickory Hardwood
As one of the hardest woods in the hardwood flooring market, hickory wood flooring is an excellent option.
As far as stain, hickory can be stained any color, but because the boards vary in color, the differences in natural tone can usually be more apparent. For a more rustic, country feel, the color variation in unstained or stained hickory is a positive addition to the cohesive home design. To show off the pure color of the wood, seal hickory hardwood floors without adding stain first. Like other hardwoods, hickory also changes tone over time, generally to a darker, more dramatic contrast.
Are Hickory Hardwood Floors Durable?
Hickory hardwood flooring is strong, sturdy wood and is not susceptible to scuffs, scratches or dents. An excellent choice for bustling, busy lifestyles, hickory does is not easily damaged by mishaps and the wear and tear of shoes. Another benefit of hickory hardwood floors is its structural integrity and ability to resist warping.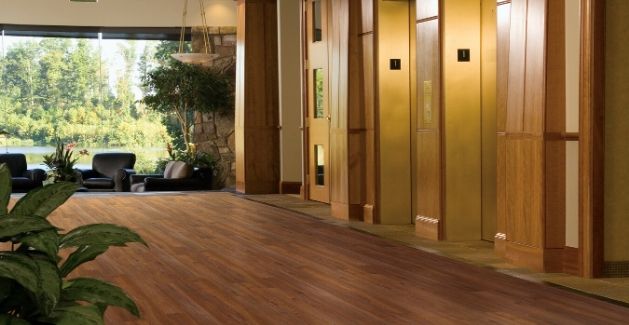 Brazilian Hardwood
Brazilian cherry hardwood floors show off their exotic essence, growing naturally in Central America and the Caribbean. With their massive height of up to one hundred and twenty feet and huge diameter of up to six feet, Brazilian cherry trees produce especially dense wood. Because of the high density, Brazilian cherry wood is commonly used to craft fine furniture, cabinets, tool handles, and other products that require sturdy wood pieces.
Brazilian Cherry Hardwood Grain
Brazilian cherry grain is a fine-grained wood, meaning that the lines it has are tightly bound and close to each other. The texture of Brazilian cherry is medium to coarse, with an interlocked grain pattern. This interlocked pattern occurs while the tree grows, with growth occurring in different directions depending on the age of the tree. Brazilian cherry also has few knots. Fewer knots mean a sturdier floor, with density being more consistent from one piece to the next.
Brazilian Cherry Hardwood Stain Colors
The color of Brazilian cherry hardwood floors naturally varies in color from burgundy to red, orange, and some pink tones. Some Brazilian cherry is red-brown with brown streaks running through. The warm, rich tones of Brazilian cherry hardwood can be stained, but because some of the hardwood is naturally dark and red-toned, choosing a stain that is evident against the bright hues can be tough – though it can be done. Brazilian cherry also darkens over time, so stains will deepen with the hardwood as time passes.
Is Brazilian Cherry Hardwood Flooring Durable?
The density of Brazilian cherry hardwood makes it extremely resistant to dents and scratches. As arguably the toughest hardwood floor available on the market, homes with high activity levels can benefit from choosing Brazilian cherry because it is so resilient when exposed to both harsh and quiet days.