On March 28, 2017 CPL Zachary Parker and his wife Misty were welcomed home to their new smart home in Moss Bluff, Louisiana.
The smart home was built as part of the Tunnel to Towers' Building for America's Bravest program which builds smart homes for catastrophically injured veterans like Parker who lost both legs and his right arm in Afghanistan in 2012 when he stepped on a dismounted IED while on route clearance patrol. The smart home is custom built to make Zachary's life more independent by equipping the home with technology tailored to suit his specific needs. Functions of the home are controlled via iPad, every last detail, down to the hard surface floors throughout, are meant to make Parker able to navigate with ease.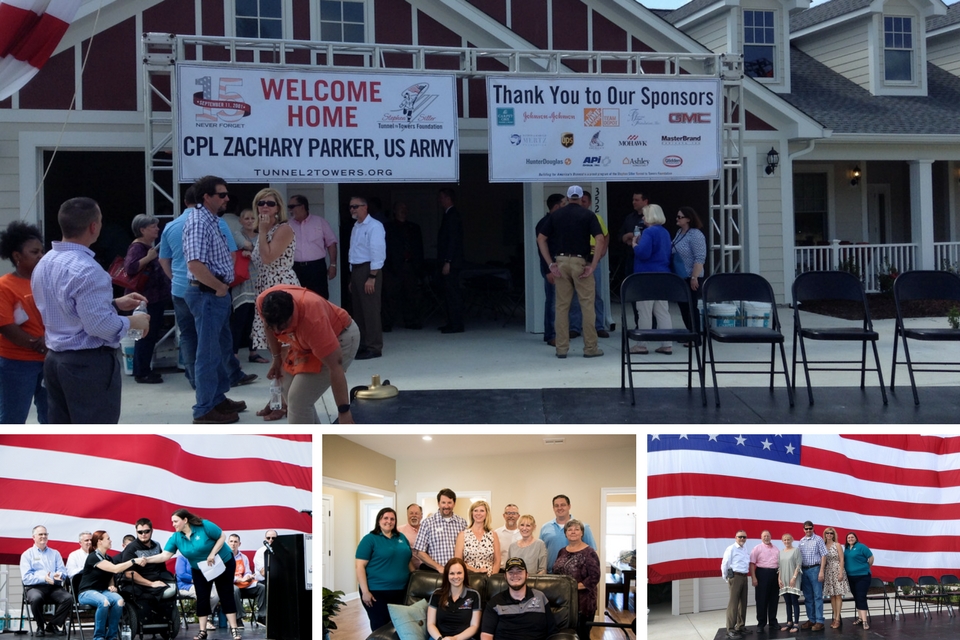 (Pictured above, in bottom right picture, from left to right: Randy Freeman, Ray & Lin Lyons from Beaumont Carpet One Floor & Home, Keith & Dana Hooper from Jay's Carpet One Floor & Home, Amanda Dumont - Regional Membership Consultant from Carpet One Floor & Home corporate).


Jay's Carpet One Floor & Home of Deridder, LA and Beaumont Carpet One Floor & Home of Beaumont, TX donated the flooring installation throughout the home.