The list of deserving heroes who need Smart Homes is long. On February 25, 2014, Sgt. Ben Tomlinson's name was at the top as he was able to participate in the groundbreaking ceremony for his new mart home.
Ben deployed twice with the United States Marine Corps. On his second tour of duty Ben was shot by enemy fire while providing rooftop security for his team. As a result, courageous Ben was paralyzed with limited mobility below his chest. When asked about his injuries Ben positively replied, "This is not the way I am going to be forever".
Ben's loving parents and brothers have been extremely supportive throughout his recovery process. Ben is extremely active and enjoys wheelchair rugby, hand cycling and watching Alabama's Crimson Tide Football.
The groundbreaking was quite an occasion with Ben, his friends and family, representatives from sponsoring companies (including Carpet One Floor & Home, or coarse!), and Jacksonville High School students.
For more information and to make a donation, please visit OurBravest.org.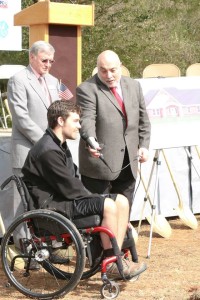 For more photos of this event, please visit the Tunnel to Towers Foundation on Facebook.